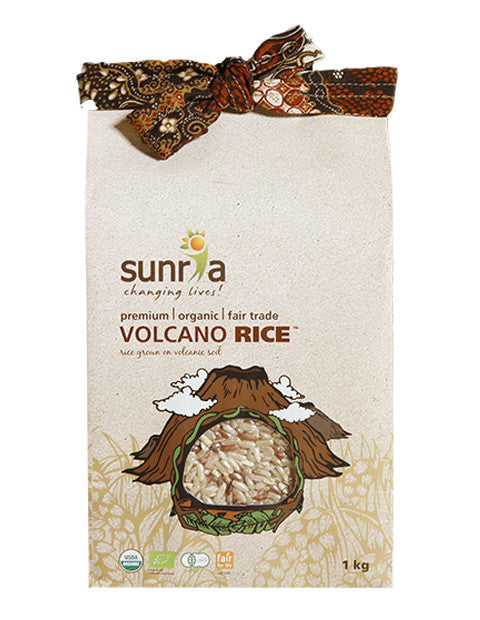 Zero Cholesterol | Low in Fat | Low in Sugar | Low in Sodium
High in Protein | Good Source of Magnesium
Good Source of Zinc
Gluten Free and Wheat Free |
No Harmful Chemicals, such as Pesticides, Additives, and Preservatives
Created by the forces of nature, 
Sunria
Volcano Rice
TM 
is award-winning rice grown in the mineral-rich volcanic soil of Java. Exploding in essential minerals, such as magnesium, manganese, and zinc, this colorful nutrient-dense rice in brown, pink, and red boosts your vitality and health! Experience the magnificence of this rice through its hearty flavor along with fragrant aroma that will blow you away! A mealtime favorite unlike any other!. Suitable for
:
 salads, fried rice, pilafs, claypots, accompaniment to grills.
For more ideas, check out sunria recipes
Sunria Rice Project
Sunrias works hand-in-hand with farmers to produce premium organic rice. We help small-scale Indonesian farmers trapped in decades of poverty cycles, by introducing fair trade practices, and empowering them to grow better rice in a more sustainable manner. Using revolutionary SRI System of Rice Intensification method, Sunria farmers are now able to save 50% fresh water, reduce greenhouse gas emissions, increase biodiversity and fertility, and harvest up to 78% more paddy for their livelihood. With Sunria Rice, enjoy a tastier and more nutritious organic rice to benefit your health, the environment, and humanity!
is backordered. We will ship it separately in 10 to 15 days.