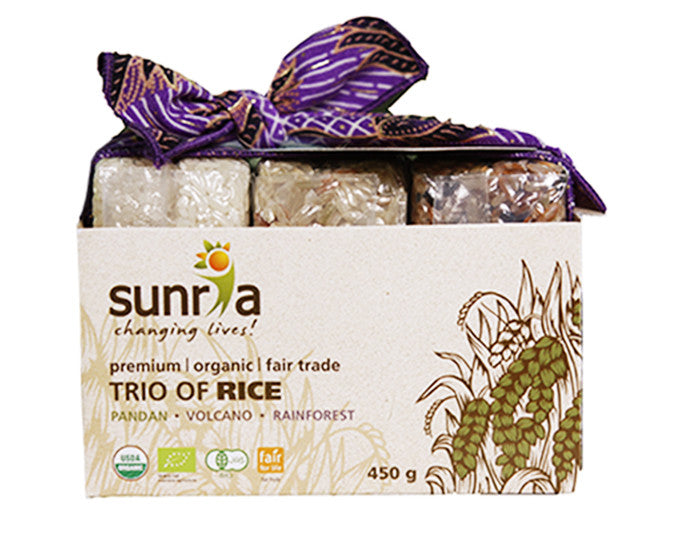 Pandan Rice
Zero Cholesterol | Low in Fat | Low in Sodium | High in Protein | Gluten Free and Wheat Free | No Harmful Chemicals, such as Pesticides, Additives, and Preservatives
Volcano Rice
Zero Cholesterol | Low in Fat | Low in Sugar | Low in Sodium High in Protein | Good Source of Magnesium | Good Source of Zinc | Gluten Free and Wheat Free | No Harmful Chemicals, such as Pesticides, Additives, and Preservatives
Rainforest Rice
Zero Cholesterol | Low in Fat | Low in Sugar | Low in Sodium | High in Protein | Good Source of Iron | Good Source of Anti-Oxidants | Gluten Free and Wheat Free | No Harmful Chemicals, such as Pesticides, Additives, and Preservatives
With Sunria Trio of Rice, you can have all of the 3 incredible Sunria rice varieties in a cute bundle that will melt your heart. Each variety has been measured to fit one rice cooker cup, and it is enough for two people to enjoy at a go. Great for first tasting trial, travels, or even as a gift!
Pandan Rice

Suitable for: paella, casseroles,rice cakes, coconut rice, soups, stews, and porridges.
Volcano Rice
Suitable for: salads, fried Rice, pilafs, claypots, accompaniment to grills.
Rainforest Rice
Suitable for: salads, pilafs, side dish, casseroles, and grills.
For more ideas, check out sunria recipes
Sunria Rice Project
Sunrias works hand-in-hand with farmers to produce premium organic rice. We help small-scale Indonesian farmers trapped in decades of poverty cycles, by introducing fair trade practices, and empowering them to grow better rice in a more sustainable manner. Using revolutionary SRI System of Rice Intensification method, Sunria farmers are now able to save 50% fresh water, reduce greenhouse gas emissions, increase biodiversity and fertility, and harvest up to 78% more paddy for their livelihood. With Sunria Rice, enjoy a tastier and more nutritious organic rice to benefit your health, the environment, and humanity!
is backordered. We will ship it separately in 10 to 15 days.